Major events
29 km to go: Excellent work by the irrepressible Cicely Ludwig makes up lost ground and gets within 20 seconds of the pack. Unfortunately for Niviatoma, however, he suffers a puncture. As predicted, the gravel sections put the riders out. But it's set up a potentially pulsating finish. There are about 20 people in the leading group.
33 km to go: OK, so Grace Brown is coming out in front, but her FDJ Suez Futuroscope is looking to slow down to help her teammates. Van Dijk and Vollering then crashed forward. Voss is still in the lead group. Meanwhile, Margarita Garcia also needs a wheel replaced and is frantically trying to rejoin the pack. It's a hell of a shakeup.
35 km to go: Here we go again in the Gravel Dust Bowl, not helped by the 13km/h wind, the SD Works attack led by Lotte Kopecky. Depreciation caught on. Yesterday's winner, Cecile Ludwig, meanwhile needs to change a wheel. Vittoria Guazzini comes to her aid.
39 km to go: The peloton regroups with Damme's lead in 45 seconds as the third gravel section – 4.4km no less – looms while riding the Essays.
44 km to go: For the next gravel sector, visibility and movement are hampered by clouds of dust kicked up from the surface – and the four bikes, including van Vludens, look more like they're coming together than a crash, but they manage. Clip. The peloton was significantly fragmented with Ellen van Dijk at the front. Deme is still alone at the helm of the course.
48 km to go: Demy was dropped on the first climb and Asensio couldn't keep up with Demy, and he sped downhill, taking full QOM points and establishing an advantage of around 20 seconds. Behind them South Africa's Ashley Moolman-Basio climbs hard to the front like a devilish climb.
50 km to go: Back to softer roads for a while before another big climb up the Cote de Val des Clos, and the lead group's gap to the yellow jersey group in the peloton stabilizes at around 1:05. That trio is now down to two with Demi removed along with Asensio and Deme.
Côte de Celles-sur-Ource points
56 km to go: Demme loses two other breakaway riders as Coralie Demme advances and attacks the summit first with Asensio on his tail as he hits the first gravel stage. It is dusty and bumpy. Balancing caution and aggression here is challenging.
The gap between the leaders and the peloton shrinks to over a minute. All kinds of battles out there as Volering accelerates to the front of the pack. Cassia niviatoma is also important.
59 km to go: The lead group of Asencio, Demay and Demay begin their first climb with a lead of 1:50 when the road drops a touch and the peloton begins to pull away; The race is starting to look pretty tough. Look out for Elisa Longo Borghini, who has positioned herself well at the front of the peloton
Valerie Demy takes the first intermediate sprint
64 km to go: Demi, part of a breakaway trio, positions themselves for the upcoming twisty gravel section, taking full points in the sprint ahead of Asensio. Those leading three have a gap of about 2:20 from the peloton. Vos scored nine points there.
Here are the full details:
1. Demi, 25 points
2. Asensio, 20 points
3. Attrition, 17 points
4. Veeps, 15 points
5. Confalonieri, 13 points
6. Kopecky, 11 points
7. Georgie, 10 points
8. Yours, 9 points
9. Zwingels, 8 points
10. Paladin, 7 points
11. Korewar, 6 points
12. Amialiusik, 5 points
13. Ointment, 4 points
14. Vollering, 3 points
15. Van Dijk, 2 points
73 km to go: That three-rider breakaway now has more than two minutes on the peloton, but it's still early days. Riders in the peloton bide their time for now, with Voss tucked away on the right-hand side of the front with his Jumbo-Wizma teammates.
82 km to go: This time a sustained break from Coralie Deme, Laura Asensio and Valerie Deme and they took the lead at 1:12. Vos was behind them in a brief group attempt to break away, but she was heavily marked and they were forced inside. We're 11km from the first intermediate sprint and 20km from the first gravel section – prepare for mayhem.
89 km to go: Fortin is still on the front ride towards the town of Vendeuvre-sur-Barse, but the peloton is only 12-15 seconds behind.
Some broadcast discussion: Alan Amos writes, "Regarding Eurosport's coverage, ASO only broadcasts from mid-race and has nothing to do with Eurosport, they just do a lousy job of communicating. Other channels such as France 2 are reported on this site to be in the same position.
Paul Griffin, meanwhile, wants to rip: "Be thankful Eurosport shows any cycling. It's not impossible to compose for the climax of the Tour of Flanders or Milan-San Remo, and it's impossible to face The World 12-Ball Theoretical Billiards Mega Open from Phoenix; the prestigious Uruguayan meta from Montevideo- One of the quarterfinals of the Badminton Open elimination round, or worse, a collection of ski jumpers, crashed to a soundtrack that sounded like Benny Hill's theme being played on a kazoo. Upside: There was no one on the European landscape who understood the tactics of meta-badminton better than I. The gauntlet lay there.
95 km to go: I'll quickly rattle off that list after the attackers were caught before French rider Valentin Fortin of Kofidis went solo ahead with a gap of 15 seconds.
That initial breakdown is complete: Balsamo; Majerus, Reusser, Le Net, Henderson, Markus; Georgy, Koch Cromwell, Boogard, Manley, Lach, Casparini, Alcini, Gorevar, Kant, Schweinberger, Vandenbulk, Bredvold, Borgström, Allin, Leth, Beugesman. None of the leading GC contenders went with them
104 km to go: The first wave of movement saw a brief breakaway of three riders – Martina Alcini (Cofitis), Talita de Jong (Liv Racing Xtra) and Marta Lach – but the peloton caught them within a few km. Before the most meaningful move from the group of 23 riders that opened a gap of about 10-15 seconds.
118 km to go: Nothing to report yet – eight km and still no gaps; The peloton is still full. Eurosport, meanwhile, is doing the slightly crazy thing of chewing over yesterday's highlights instead of showing today's opening live. This gives us a chance to enjoy Ludwig's happy-honestly emotional interview after yesterday's stage victory.
A few more details Among today's most talked about gravel sections – the first is 68.1 km, the second is 77.4, then one is 89 and the fourth is 106 km. And the race is on.
Some good news: All 131 of yesterday's participants are good to go again today. No refunds
It's manageable hot As the 25 degree riders start their route in the attractive city center of Troyes – they will march 6.9km through Troyes to pick us up. Another 126.8 km.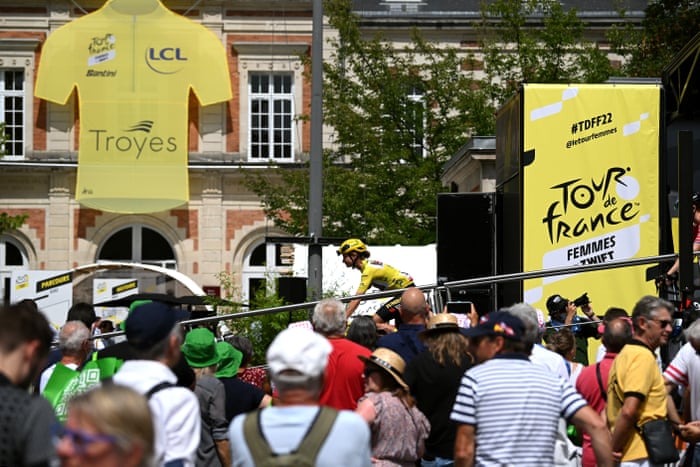 How they stand:
Reminder of GC levels after third level
1 Marianne Voss (Jumbo Wisma) 08h 30′ 36"
2 Silvia Persico (Valcar – Travel & Service) + 00h 00′ 16"
3 Katarzyna Niewiadoma (Canyon / SRAM Racing) + 00h 00 '16' '
4 Elisa Longo Borghini (Trek – Secafredo) + 00:00 21"
5 Ashleigh Moolman-Pasio (SD Worx) + 00h 00′ 51"
6 Margarita Victo Garcia Canellas (UAE Team ADQ) + 00h 00′ 55"
7 Demi Vollering (SD Worx) + 00h 00′ 57"
8 Juliet Labus (Team DSM) + 00h 01′ 05"
9 Annemick Van Vluden (Team Movistar Women) + 00h 01′ 14"
10 Cecile Ludwig (FDJ Suez Futuroscope) + 00h 01′ 48"
Pre-race reading:
Yesterday's report from Jeremy Witt, our man in Épernay:
Afternoon everyoneAnd welcome what could be an important, if certainly a challenging, phase Tour de France Women. While we're not surprised to see Marianne Vos in the yellow jersey, she's had to work hard for it, and she was replaced yesterday by the brilliantly recovered Danish Cicely Uttrup Ludwig. His stage two horror show.
Ludwig should be more suited to today's conditions, featuring gravel fields and five classified climbs, before a fast descent down the winding streets of Bar-sur-Abe at the end. Voss is expected to retain his overall lead, but Canyon-SRAM's Kasia Niewiadoma, third in the GC standings, and Paris-Roubaix winner Elisa Longo Borghini could be in the mix.
Riders around 12pm BST/1pm CET. wait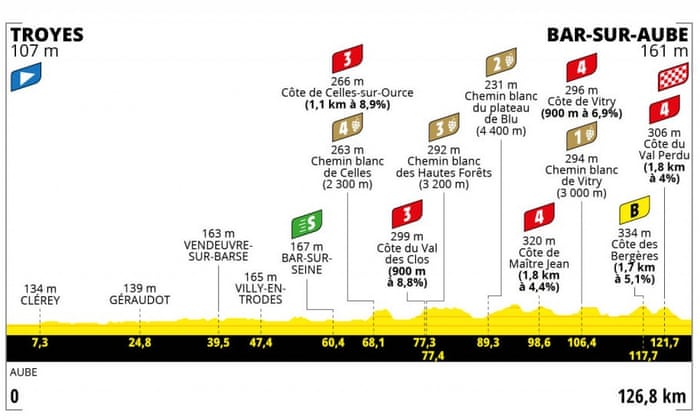 "Total coffee maven. Extreme web geek. Award-winning explorer. Travel aficionado."